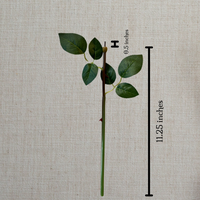 THESE STEMS ARE NOW AVAILABLE!!
These Premium Faux Rose stems are making their debut at Sola Sister Co.!
They are exceptionally life-like in look and feel so you can feel confident in providing them on a single stemmed rose or in a full bouquet. See the example arrangement by Dixieland Designs in the product photos!
These stems are 11.25" long and feature variegated green and light brown lifelike coloring, thorns, and two sets of three leaflets.

The wire portion where a flower can be attached is approximately 0.5 inches long.
Perfect for elegant Mother's Day arrangements. They are packaged in bundles of 25.
Sola wood flowers are skillfully handmade, so each flower is slightly unique. They are off-white to ivory in color, but they can also be brown if made with the bark (skin) of the plant. Sola wood flowers have a texture like that of a very thin balsa wood. The occasional small hole or grain-like veining can be present which adds to the natural character of these beautiful petals.
Each flower is skillfully handmade. Actual size may vary slightly.
1.5" = 4 cm
2.5" = 6 cm
3"    = 8 cm
4"    = 10 cm
Best Out There
Best stems I have seen out there.
Great quality stems
The faux rose stems look so real and are very easy to work with. They bring the beautiful wood flowers to a whole new level!
Realistic Faux Rose Stems
Second order of 100. Love the presentation they make with Sola Sister sola rose flowers.
Perfect faux rose stem!
These are perfect! I also love the fact that it has little wire part on top to poke the flowers with to make it more secure attachment! Thank you for bringing these awesome stems Stacy!